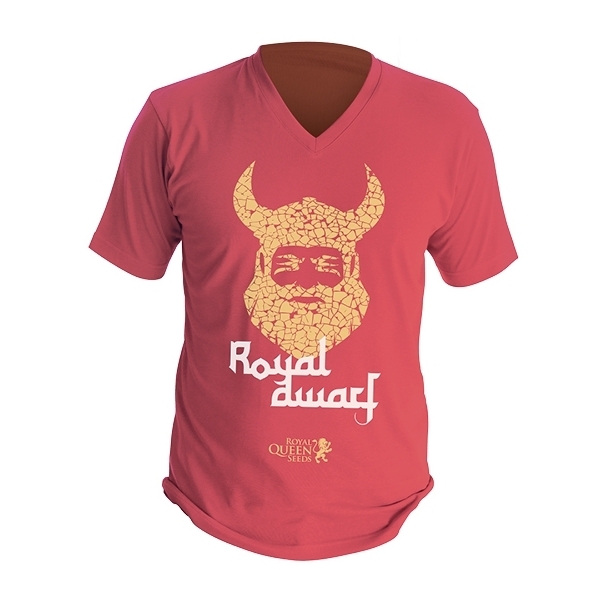 For individuals who are fans of medical marijuana and medical cannabis, it might be time to spruce up your wardrobe with this awesome t-shirt. The shirt itself has a viking symbol on it that stands out against the background of the clothing. The shirt itself is a very faded red that looks great on just about anyone who chooses to wear it. The design on the front also has the words Royal Dwarf on the front, which anyone who is into growing cannabis seeds will know as being a variety of the plant.

The shirt itself is made using high quality materials that are going to last even if they are washed and dried on a routine basis. This is ideal for individuals who simply want a shirt that they can wear throughout the day without having to worry about dirtying themselves. Just toss the t-shirt into cold water to wash it and you can either dry it in a machine or hang-dry it so that you get a perfect fit every single time. You'll be amazed at how comfortable the Royal Dwarf t-shirt can be even if you've washed and worn it for years.

The Royal Dwarf t-shirt is a staple for anyone looking to have a shirt that symbolizes their favorite hobby of growing strains of cannabis. The best cannabis strains can be found on the t-shirt, allowing you to wear something that you do not currently have added to your wardrobe. This t-shirt looks great on just about anyone and the sizes come true to fit so that you never have to worry about getting something that is either too big or too small. You will love the smooth feel of the fabric and the superior quality that comes with this t-shirt. It is a great addition to your current wardrobe and will be something that you wear on a constant basis because of its comfort.

Between the gorgeous coloring of this shirt and the bright and subtle logo design, you'll be sure to stand out in a crowd when you have this on. Because it is so versatile and easy to care for, you will find that it is a prime addition to your clothing repertoire. Make sure to choose the size that is right for you and you will be able to receive your Royal Dwarf t-shirt in absolutely no time at all so that you can begin wearing it wherever you may go. The great quality and style makes this shirt a great addition to anyone's current wardrobe.



By L. D. on 10/Dec/2014 :

(

4

)

Title : bella ma il colore non è esattamente quello della foto
Comment : la maglietta è bellissima, il tessuto è elasticizzato, le stampe son fatte bene, ma il colore è più tendente al salmone, non così rosso come in foto. per il resto bellissima.




You can't post a review because you are not logged as a customer

Log in / sign up
We do not ship this product to the following countries:
Belgium, Canada, China, Japan, United States, HongKong, Norway, Australia, Singapore, New Zealand, South Korea, Israel, South Africa, Nigeria, Ivory Coast, Togo, Bolivia, Mauritius, Slovakia, Algeria, American Samoa, Andorra, Angola, Anguilla, Antigua and Barbuda, Argentina, Armenia, Aruba, Azerbaijan, Bahamas, Bahrain, Bangladesh, Barbados, Belarus, Belize, Benin, Bermuda, Bhutan, Botswana, Brazil, Brunei, Burkina Faso, Burma (Myanmar), Burundi, Cambodia, Cameroon, Cape Verde, Central African Republic, Chad, Chile, Colombia, Comoros, Congo, Dem. Republic, Congo, Republic, Costa Rica, Cuba, Djibouti, Dominica, Dominican Republic, East Timor, Ecuador, Egypt, El Salvador, Equatorial Guinea, Eritrea, Ethiopia, Falkland Islands, Faroe Islands, Fiji, Gabon, Gambia, Ghana, Grenada, Greenland, Gibraltar, Guadeloupe, Guam, Guatemala, Guernsey, Guinea, Guinea-Bissau, Guyana, Haiti, Heard Island and McDonald Islands, Vatican City State, Honduras, India, Indonesia, Iran, Iraq, Man Island, Jamaica, Jersey, Jordan, Kazakhstan, Kenya, Kiribati, Korea, Dem. Republic of, Kuwait, Kyrgyzstan, Laos, Lebanon, Lesotho, Liberia, Libya, Macau, Macedonia, Madagascar, Malawi, Malaysia, Maldives, Mali, Marshall Islands, Martinique, Mauritania, Mayotte, Mexico, Micronesia, Moldova, Mongolia, Montenegro, Montserrat, Morocco, Mozambique, Namibia, Nauru, Nepal, Netherlands Antilles, New Caledonia, Nicaragua, Niger, Niue, Norfolk Island, Northern Mariana Islands, Oman, Pakistan, Palau, Palestinian Territories, Panama, Papua New Guinea, Paraguay, Peru, Philippines, Pitcairn, Puerto Rico, Qatar, Reunion Island, Rwanda, Saint Barthelemy, Saint Kitts and Nevis, Saint Lucia, Saint Martin, Saint Pierre and Miquelon, Saint Vincent and the Grenadines, Samoa, San Marino, São Tomé and Príncipe, Saudi Arabia, Senegal, Serbia, Seychelles, Sierra Leone, Slovenia, Solomon Islands, Somalia, South Georgia and the South Sandwich Islands, Sri Lanka, Sudan, Suriname, Svalbard and Jan Mayen, Swaziland, Syria, Taiwan, Tajikistan, Tanzania, Thailand, Tokelau, Tonga, Trinidad and Tobago, Tunisia, Turkey, Turkmenistan, Turks and Caicos Islands, Tuvalu, Uganda, United Arab Emirates, Uruguay, Uzbekistan, Vanuatu, Venezuela, Vietnam, Virgin Islands (U.S.), Wallis and Futuna, Western Sahara, Yemen, Zambia, Zimbabwe, Afghanistan, Antarctica, Bosnia and Herzegovina, Bouvet Island, British Indian Ocean Territory, Cayman Islands, Christmas Island, Cocos (Keeling) Islands, Cook Islands, French Guiana, French Polynesia, French Southern Territories, Åland Islands
KUNDER SOM KÖPTE DENNA PRODUKT KÖPTE ÄVEN
Disclaimer
All cannabis seeds sold at Royal Queen Seeds are solely for personal use. We do not supply seeds to large scale or commercial growers. We reserve the right to refuse sale if we suspect this term is being breached.