Det är sant att genetiken är okänd. Vissa säger att OG Kush är en mix av ChewDawg med en Lemon Thai och Pakistani Kush. andra säger att detta är en speciell skärelse av ChewDawg från det tidiga 90-talet. Även betydelsen av namnet OG har debatterats; vissa säger att det betyder OriginalGangster. Dock, nu efter dess ursprung är de flesta överrens att det betyder Ocean Grown.
En sak som inte debatterats är populariteten av denna feminiserade cannabis art. Från filmstjärnor i Hollywood och rappare till användare av medicinsk marijuana, är OG Kush älskad av många. Det mest uppenbara karaktärsdraget hos OG Kush är dess starka, unika, mycket råa, svaga citrusarom, nästan som bränsle eller starkt rengöringsmedel. Smaken hos OG Kush är lika stark och rå, med en varaktig eftersmak.
OG Kush är en extremt stark cannabis art, med de flesta erfarna rökare listande den som en av sina favoriter. Effekten är stark fysiskt som den är mentalt. Även om dess effekt är som hos Sativa, är artens genetik mest Indica. Effekten är ett lika starkt och komplex som smaken. OG Kush tar runt 8 veckor att blomstra och i snitt ger den 65 gram per planta.
OG Kush är känd för att sträcka på sig något under växt men börjar snart fylla ut under blomstring. Generellt kommer den nå en höjd på 90 till 160 cm. Dess knoppar är stora och täta, limegröna kluster täckta av stora mängder harts. Det finns många bar anledningar varför OG Kush har blivit så populär. Nu tillgänglig som en feminiserad variant från Royal Queen Seeds, så du kan prova denna fantastiska art själv.
THC:

19%+-

CBD:

Medium

Skörd Inomhus :

425-475gr m2

Skörd Utomhus:

500-550 grams per plant dried

Höjd Inomhus :

90 - 160 cm

Höjd Utomhus :

180 - 220 cm

Blomtid:

7-9 Weeks

Skördetid :

Oktober

Genetisk bakgrund:

Chemdawg x Lemon Thai x Pakistani Kush

Typ :

Sativa: 25% Indica: 75%

Effekt:

Avslappnande och full av smak



By Ximeek D. :

The customer has rated the product but has not posted a review

By Manconi N. on 29/Nov/2016 :

Title : Top Anzuchtergebniss
Comment : 10 von 10 Samen sind ohne jeglichen Aufzuchtschnickschack aufgegangen. Letztendlich sind 9 Pflanzen bis zur Ernte mit hervorragenden Ergebnis durchgekommen. Gerne wieder!!

By Thomas B. on 29/Nov/2016 :

Title : Everything good so far
Comment : Thanks Royal Queen Seeds, everything good so far.

By Raphaël D. on 25/Nov/2016 :

Title : Tres belle variété
Comment : Une variete que je recommande a tous Tres productive

By MMJ S. :

The customer has rated the product but has not posted a review

By kari Y. on 22/Nov/2016 :

Title : OG KUSH ROCK
Comment : all seeds germinated. 3/3 feminized seeds all of then look unite and sturdy. Taste is sweet and kush.

By alexandre M. on 21/Nov/2016 :

Title : OG KUSH 1
Comment : VERY GOOD STRAIN GOOD BUDS TOP QUALITY

By COLM F. on 14/Nov/2016 :

Title : O.G. Kush
Comment : Started growing 4 days ago. Got 5 seeds 3 came up. Looking forward to seeing how they do. All the best ELVIS. THANK YOU,THANK YOU,THANK YOU VERY MUCH.

By Anthony R. :

The customer has rated the product but has not posted a review

By Dave G. on 07/Nov/2016 :

Title : Og kush
Comment : One of the best strains ever. Top qaulity in fact everything from royal queen seeds represesnts top qaulity!

By Mark H. on 07/Nov/2016 :

Title : Bin beeindruckt !!!
Comment : Super einfach zu growen, hat alles super funktioniert. Hatte schlechte Vorrassetzungen gab aber super leckeres Gras !

By Petri S. on 07/Nov/2016 :

Title : nice
Comment : good seeds well working 3/3

By Goran D. on 03/Nov/2016 :

Title : OG Kush
Comment : This has to be one of my favorite strains and super easy to grow.My last lady was done flowering in 7 weeks and she was heavy weight in high department.I will buy more of OG Kush seeds from Royal Queen Seeds for sure.Keep growing.

By Ludovic E. on 03/Nov/2016 :

Title : fumer des agrumes
Comment : excellente fumée et gout exotique

By Sebastian S. on 28/Oct/2016 :

Title : Nice
Comment : Looking good until now. Fast Shipping




You can't post a review because you are not logged as a customer

Log in / sign up
We do not ship this product to the following countries:
United States, Argentina
KUNDER SOM KÖPTE DENNA PRODUKT KÖPTE ÄVEN
Original Gangster Kush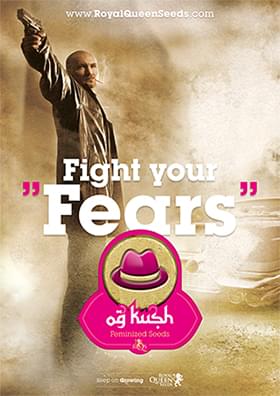 In the world of marijuana, OG Kush is one of the most famous and well-known strains available. In fact, it's considered to be one of the eight ultimate Kush varieties. The precice origin and genetics of OG are a bit hazy. Many people believe that the popular strain was first developed in California, which would offer a fitting explanation for the first half of its name. It was long thought that "OG" meant "original gangster", but the name is now thought to stand for "ocean grown", which would make sense if it was developed on California's coast.
Disclaimer
All cannabis seeds sold at Royal Queen Seeds are solely for personal use. We do not supply seeds to large scale or commercial growers. We reserve the right to refuse sale if we suspect this term is being breached.