Det är sant att genetiken är okänd. Vissa säger att OG Kush är en mix av ChewDawg med en Lemon Thai och Pakistani Kush. andra säger att detta är en speciell skärelse av ChewDawg från det tidiga 90-talet. Även betydelsen av namnet OG har debatterats; vissa säger att det betyder OriginalGangster. Dock, nu efter dess ursprung är de flesta överrens att det betyder Ocean Grown.
En sak som inte debatterats är populariteten av denna feminiserade cannabis art. Från filmstjärnor i Hollywood och rappare till användare av medicinsk marijuana, är OG Kush älskad av många. Det mest uppenbara karaktärsdraget hos OG Kush är dess starka, unika, mycket råa, svaga citrusarom, nästan som bränsle eller starkt rengöringsmedel. Smaken hos OG Kush är lika stark och rå, med en varaktig eftersmak.
OG Kush är en extremt stark cannabis art, med de flesta erfarna rökare listande den som en av sina favoriter. Effekten är stark fysiskt som den är mentalt. Även om dess effekt är som hos Sativa, är artens genetik mest Indica. Effekten är ett lika starkt och komplex som smaken. OG Kush tar runt 8 veckor att blomstra och i snitt ger den 65 gram per planta.
OG Kush är känd för att sträcka på sig något under växt men börjar snart fylla ut under blomstring. Generellt kommer den nå en höjd på 90 till 160 cm. Dess knoppar är stora och täta, limegröna kluster täckta av stora mängder harts. Det finns många bar anledningar varför OG Kush har blivit så populär. Nu tillgänglig som en feminiserad variant från Royal Queen Seeds, så du kan prova denna fantastiska art själv.
THC:

19%+-

CBD:

Medium

Skörd Inomhus :

425-475gr m2

Skörd Utomhus:

500-550 grams per plant dried

Höjd Inomhus :

90 - 160 cm

Höjd Utomhus :

180 - 220 cm

Blomtid:

7-9 Weeks

Skördetid :

Oktober

Genetisk bakgrund:

Chemdawg x Lemon Thai x Pakistani Kush

Typ :

Sativa: 25% Indica: 75%

Effekt:

Avslappnande och full av smak



By Jo J. on 11/Oct/2016 :

Title : Best of any seed bank
Comment : Og kush from royal queen of seeds are the best of any seed bank I've tried and wouldn't buy them from any other seed bank fast and discreet delivery

By Laurine D. on 06/Oct/2016 :

Title : Qualité
Comment : Bon produit:)

By Patrice D. on 04/Oct/2016 :

Title : best
Comment : tres tres bon produit !!!

By Brian C. on 04/Oct/2016 :

Title : Free og kush
Comment : Fast shipping tuck 5days got 10 white widow and 3 free og kush update when i Finnish the grow

By Mike F. on 29/Sep/2016 :

Title : O.G. Kush Nice and dusty
Comment : Great O.G Kush really strong and dusty nice flavour

By ali N. on 15/Sep/2016 :

Title : srong
Comment : very strong plant. responded very well to topping

By sandri B. on 15/Sep/2016 :

Title : content
Comment : très belle bud mais plante pas facile a cultiver

By Poeana A. on 31/Aug/2016 :

Title : OG Kush
Comment : Nice strain

By Maxime S. on 31/Aug/2016 :

Title : Great !
Comment : OG Kush !! quality seed easy to grow 5 stars buy again thanks royalseed

By Dan M. on 26/Aug/2016 :

Title : Wwooww
Comment : Super livraison rapide et promo pack de 5 graines 48h germer et deja sorti wwooww top qualite merci rqs

By Bryan G. :

The customer has rated the product but has not posted a review

By Justus N. on 17/Aug/2016 :

Title : Zwitter über Zwitter :(
Comment : Voller Erwartung bestellt, leider eine Katastrophe.....Alle Samen sind gekeimt, der Wuchs einheitlich, soweit so gut. Bei Einleitung der Blühte, sind 9 Zwitter entstanden!!!!Im Gegensatz du den Critical die alle blühen und sich prächtig entwickeln!!!Schade, RQS, leider durchgefallen :(Deswegen nur 2 Sterne

By Julien H. on 28/Jul/2016 :

Title : Goût mémorable !!!!
Comment : Un goût unique qui rend toutes les autre fade!!!!! Pieds très résistant casser à trois jour à ras du sol repiquer avec de l'hormone à repris du feu de dieu vraiment facile à faire même pour les novices

By Kai F. on 22/Jul/2016 :

Title : OG Kush
Comment : Sehr würziger,charakteristischer Geschmack.Und der Turn haut einen um.Immer wieder gerne!!

By Murilo B. on 15/Jul/2016 :

Title : Quality seeds
Comment : first time growing and the plants are very strong and healthy highly recommend, thanks RQS for the fast delivery




You can't post a review because you are not logged as a customer

Log in / sign up
We do not ship this product to the following countries:
United States, Argentina
KUNDER SOM KÖPTE DENNA PRODUKT KÖPTE ÄVEN
Original Gangster Kush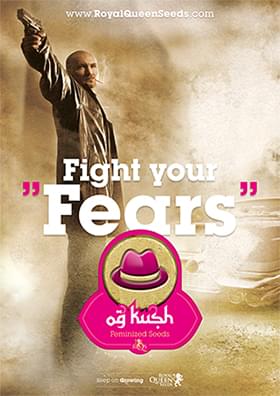 In the world of marijuana, OG Kush is one of the most famous and well-known strains available. In fact, it's considered to be one of the eight ultimate Kush varieties. The precice origin and genetics of OG are a bit hazy. Many people believe that the popular strain was first developed in California, which would offer a fitting explanation for the first half of its name. It was long thought that "OG" meant "original gangster", but the name is now thought to stand for "ocean grown", which would make sense if it was developed on California's coast.
Disclaimer
All cannabis seeds sold at Royal Queen Seeds are solely for personal use. We do not supply seeds to large scale or commercial growers. We reserve the right to refuse sale if we suspect this term is being breached.